Mission
All happens through processes, and all happens in processes: Organizations work through processes, our lives unfold in processes. This site aims to establish a community of people who are interested in the understanding and the design of processes from multiple angles.
Processes are sequences of actions and events, which take effect over time and in context. They guide our every-day activities, and they dynamically change over time. Processes can make an impact on our society and environment.
So far, processes have been investigated from the lens of single disciplines, such as computer science, management science, organization science, engineering science or cognitive science. We cannot rely on a single discipline if we want to obtain a full picture of processes. We need to bundle and synthesize contributions, theories and methods from multiple disciplines. Process Science shall provide the opportunity to accumulate interdisciplinary knowledge on processes in order to make a real-world impact.
We are just starting. We count on you to further shape the idea and grow the community. Process Science is in a process itself. It will grow and develop as we go.
Your ideas are very welcome.
Events
Inaugural Talk at the 18th Business Process Conference
Watch the keynote on youtube.
Keynote at the 18th International Conference on e-Business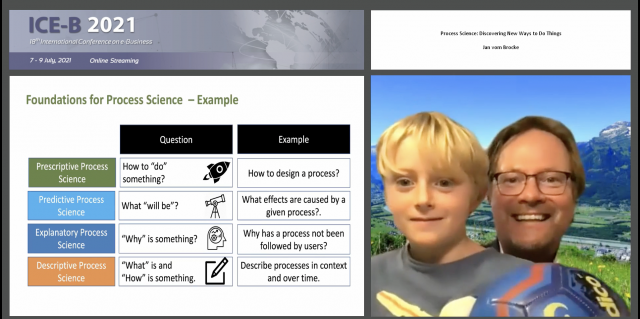 People
Process Science is open to all people who share an interest in processes. All people are recognized by their name and they will be involved in the further development of process science.
Wil van der Aalst
RWTH Aachen
Adriano Augusto
The University of Melbourne
Rachmadita Andreswari
Telkom University
Peyman Badakhshan
Celonis
Dorina Bano
Hasso Plattner Institute
Mauricio Bitencourt
Projeler
Jan vom Brocke
University of Liechtenstein
Pascal Budner
University of Cologne
Andrea Burattin
Technical University of Denmark
Dulcineia A Camilo
Indra Companytl
André Luiz Leitão de Carvalho
Embratel
Massimo Coletti
Independent consultant - Ernst&Young contractor
Francisco Cordeiro
DocTech
Ruud van Cruchten
Tilburg University
Tales Costa
FAS Consultoria Empresarial
Stefan Dal Pont
Empresas Rio Deserto
Pavlos Delias
International Hellenic University
Christian Dremel
University of Bamberg
Marlon Dumas
University of Tartu and Apromore
Ahmed Elbaz
Nile University
Ghada ElKhawaga
Ulm university
Dirk Fahland
Eindhoven University of Technology
Mahdi Fahmideh
University of Wollongong
Rokhman Fauzi
Telkom University
Fabrizio Fornari
University of Camerino
Norbert Frick
Deutsche Bundesbank University of Applied Sciences
Michael Gau
University of Liechtenstein
Jerome Geyer-Klingeberg
Celonis SE
Alexander Geyda
St.Petersburg Federal Research Center of the Russian Academy of Sciences
Fernanda Gonzalez-Lopez
Pontificia Universidad Catolica de Chile
Thomas Grisold
University of Liechtenstein
Michael Groeschel
University of Applied Science Mannheim
Tobias Heindel
Technische Universität Berlin
Iman Helal
Cairo University
Lucineia Heloisa Thom
Federal University of Rio Grande do Sul
Telmo Henriques
ISCTE-IUL
Joschka Hüllmann
University of Münster
Gert Janssenswillen
Hasselt University
Leandro Jesus
Queensland University of Technology
Florian Fahrenbach
Wu Wien
Marcio Junior Vieira
Ambiente Livre
Sebastian Kautz
Boydak Automation
Waldemar Kremser
Radboud University
Nina van Krimpen
LyonDellBasell
Jan Marco Leimeister
University of St. Gallen
Steven Leego
University of Tartu
Agata Lewkowska
Borg Warner
Mahei Manhai Li
University of Kassel
Roberto de Lima Bueno
Furukawa Electric Latam
Amy Van Looy
Ghent University
Hugo A. López
University of Copenhagen / DCR Solutions
Amin Jalali
Stockholm University
Andrea Magalhaes Magdaleno
UFF & dheka
Norylaine Mangueira
dheka
Niels Martin
Hasselt University
Mahendrawathi ER
Institut Teknologi Sepuluh Nopember
Marco Montali
KRDB Research Centre, Free University of Bozen-Bolzano
Nicolai
University Osnabrueck
Adriatik Nikaj
Hasso Plattner Institute, University of Potsdam
Toacy Oliveira
COPPE/UFRJ
Samuli Pekkola
Tampere University
Christoph Peters
University of St. Gallen
Artem Polyvyanyy
The University of Melbourne
Manfred Reichert
Ulm University
Hamzah Ritchi
Universitas Padjadjaran
Gilberto J D Rocha
Icolabora
Adela del-Río-Ortega
Universidad de Sevilla
Christoph Rosenkranz
University of Cologne
Andrea Maldonado
LMU Munich
Jorge Munoz-Gama
Pontificia Universidad Católica de Chile
Rui Dinis Sousa
University of Minho
Armin Stein
University of Muenster
Luise Pufahl
Technische Universitaet Berlin
Gregor Polančič
University of Maribor
Andrés Jiménez Ramírez
Universidad de Sevilla
Adrian Rebmann
University of Mannheim
Rehan
Eindhoven University of Technology
Hajo Reijers
Utrecht University
Mohammadreza Fani Sani
RWTH-University
SisiliaI Thya Safitri
Institute Technology Telkom Purwokerto
Flavia Maria Santoro
University of the State of Rio de Janeiro
Ricardo Franco dos Santos
Vitrrus
Rainer Schmidt
Munich University oaS
Johannes Schneider
University of Liechtenstein
Thomas Staudt
Deutsche Bundesbank
Matthias Stierle
FAU Erlangen-Nürnberg
Victor Taratukhin
SAP America
Sedat Taskesenlioglu
Kuveyt Turk Participation Bank
Dyah Wahyu Sukmaningsih
BINUS university
Simon Poon
The University of Sydney
Mohsen
Saman System Sepahan
Claudia-Melania Chituc
DIPF - Leibniz-Institut für Bildungsforschung und Bildungsinformation
Christian Janiesch
University of Würzburg
Egon Lüftenegger
CAMPUS 02  University of Applied Sciences
Arash Yadegari Ghahderijani
University of Groningen
Dimka Karastoyanova
University of Groningen
Jari Peeperkorn
KU Leuven
Adrian Rebmann
University of Mannheim
Stefan Schönig
University of Regensburg
Andrea Schlager
Arctive AG
Simon Remy
Hasso Plattner Institute
Moch Taufik
Universitas Islam Sultan Agung
Johannes Tenschert
FAU Erlangen-Nuremberg / Pertuniti GmbH
Peter Trkman
 University of Ljubljana, School of Economics and Business
Jana Rehse
University of Mannheim
Gottfried Vossen
WWU Münster
Jan Martijn van der Werf
Utrecht University
Brian Pentland
Michigan State University
Jan Recker
University of Cologne
Maximilian Roeglinger
University of Bayreuth
Michael Rosemann
Queensland University of Technology
Irene Vanderfeesten
Open University of the Netherlands / Eindhoven University of Technology
Tobias Walter
Hochschule Mainz - University of Applied Sciences
Bayu Waspodo
Universitas Islam Negeri Syarif Hidayatullah Jakarta
Barbara Weber
University of St. Gallen
Inge van de Weerd
Universiteit Utrecht
Kay Winkler
USMA - Santa María La Antigua Catholic University
Bernardo Nugroho Yahya
Hankuk University of Foreign Studies
Rashid Zaman
Eindhoven University of Technology
Sebastiaan van Zelst
Fraunhofer FIT
Become a part of the process science community